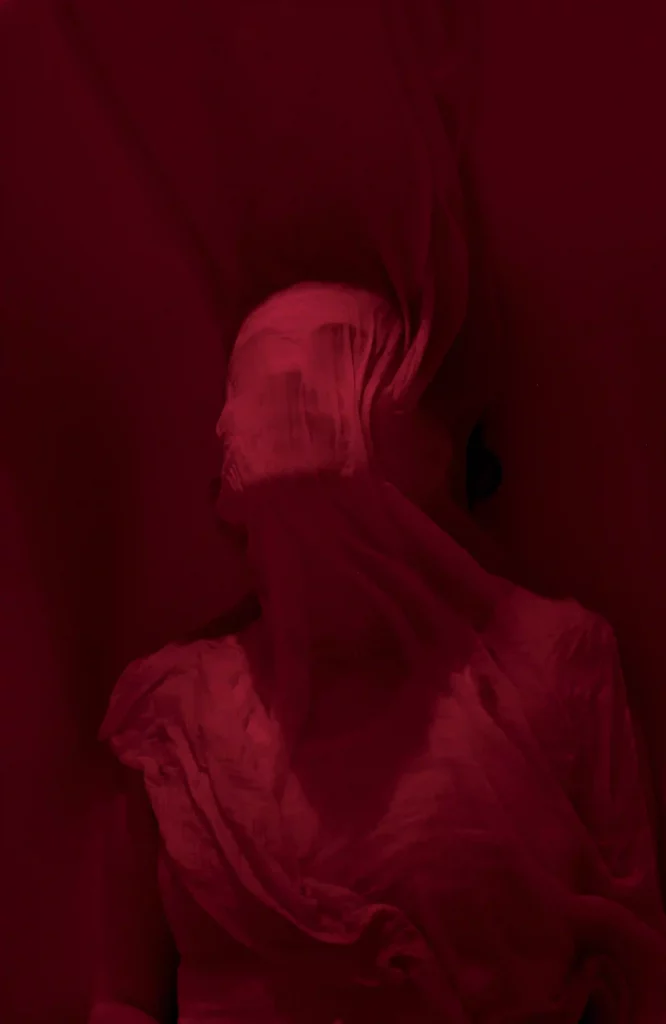 SAY: HELLO@SELINA-NAOUMA.COM

Selina Naouma, born in Berlin in 1995, is a greek-austrian, multidisciplinary, feminist artist. She plays and experiments with ideas of entanglement of the universe, the embodiment of identity, and intra-action with the Intimate and the other.
Her work varies from photography to animation, moving image to sculpture. Somewhere bet ween at traction and disgust, birth and decay, reality and fantasy, she creates colour fully sinister imaginings that question existing power structures and belief systems in contemporary society.

Selina first studied architecture at the Technical University of Berlin and obtained a BA in visual communication at the University of Applied Sciences Europe, Berlin. Currently living in London, she recently completed an MA in photography at the Royal College of Art.

Her work has appeared in publications such as Mission Statement Magazine as well as in the exhibitions 'HAUTE Photographie', (Museum Square, Amsterdam, NL), 'Monster in You' (Goethe Institute, Hanoi, V T), 'The Body: Figure and Flesh' (FLOOR Gallery, Seoul, KOR), 'The Unseen' by Rank in Creative (Quantus Gallery, London, UK), 'After The Waiting Room' (Copeland Gallery,
London, UK).

EXHIBITIONS

04/2023 "In Between Fragments" Online Solo, Afpa Gallery
04/2023 "Hot Sheet", Downstairs Brix ton, London, UK
12/2022 SPECTRUM Art Fair via Afpa Gallery, Miami, US
11/2022 "UNCODED: CraftingIntelligence" D Contemporary, London
11/2022 "Who You Are", Chromart, Berlin, DEU
10/2022 "Winter Exhibition", Brushwrk, London, UK
10/2022 "NOW22", Gerald Moore Gallery, London, UK
09/2022 "HAUTE Photography", Museum Square, Amsterdam, NL
09/2022 "Compositions", The Holy Art Gallery, London, UK
08/2022 "After the Waiting Room", Copeland Gallery, London, UK
06/2022 "RCA Graduate Show '22", Royal College of Art, London, UK
06/2022 "The Unseen"-Rankin Creative, Quantus Gallery, London, UK
05/2022 "The Body", FLOOR Gallery, Seoul, KOR
01/2021 "WiP 2021", Royal College of Art, London, UK
02/2020 "New endings", BTK Gallery, Berlin, DEU
01/2020 "Turn the Tide", BA/MA exhibition UE Berlin, DEU
02/2019 "Monster in You", Goethe institute, Hanoi, VNM
07/2018 "Glück im Ohr", Rosarother Panzer, Berlin, DEU
05/2018 "City oft he Blind", BTK Gallery, Berlin, DE

PUBLICATIONS & FEATURES

09/2022 "Fresh Eyes" by GUP Magazine
03/2022 "Private View", Mini-Inter view
12/2021 Mission Statement Magazine " Sapiens Collective"
03/2021 "The waiting room"
06/2017 "Finders Magazine"
04/2017 "NYC unseen postcards"